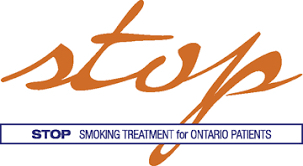 STOP Program
"Smoking cigarettes continues to be the leading cause of preventable death and illness in Ontario​. The Smoking Treatment for Ontario Patients (STOP) Program,funded by the Ontario Ministry of Health, provides smoking cessation treatm​ent and counselling support to people across the province who want to quit."
About the Program
"The Smoking Treatment for Ontario Patients (STOP) Program, funded by the Ontario Ministry of Health, is a province-wide initiative, delivering smoking cessation treatment and counselling support to people who want to reduce/quit their tobacco use. These supports are available free of charge, through partnerships with community health care organizations." "STOP is funded by the Ontario Ministry of Health and is part of the Smoke-Free Ontario strategy.​​​​"

"The STOP Program has two main goals:
Increase access to smoking cessation aids for people who wish to quit smoking cigarettes.
Enhance the capacity of health care settings to provide comprehensive smoking cessation treatment."
STOP Team
"The STOP Program is operated by smoking cessation specialists at the Centre for Addiction and Mental Health (CAMH) in Toronto, Ontario. The team is led by Dr. Peter Selby, a physician and researcher at CAMH."
STOP partners with different organizations (such as BAFHT) to support people who want to quit smoking.​​
To self-refer you can call the clinic at 519-236-4314. Contact person is Sarah Masse.
If you would like to learn more about the stop program, please visit this website: https://www.nicotinedependenceclinic.com/en/stop/home