What can I expect from my visit?
Please plan to arrive ten minutes before your scheduled appointment to check in and complete any necessary information updates or forms.  Please limit yourself to one to two issues per visit, in order for us to provide you with the quality of care you expect and deserve.  Our reception staff will require a short description of your issue at the time you book your appointment, to be able to schedule your appointment appropriately.
Prescription Renewal
Ongoing medications are usually prescribed to cover a one year time period. Please call the office to book an appointment after your last fill of these medications. Renewal of narcotics, A.D.D, and sleeping medications require an office visit with your prescribing Doctor or Nurse Practitioner. Please provide a minimum of 10 business days notice for prescription renewal requests.
Electronic Communication via Ocean by CognisantMD
The Ocean service provides a secure way for patients to receive communication from BAFHT via their personal email account. Patients are encouraged to provide their email and will be asked to complete a consent to authorize electronic communication.

Ocean can be used to:
Receive communication direct from their Provider
Securely send documents, as requested by BAFHT
Receive lab requisitions, forms, or questionnaires
Receive automated appointment reminders (coming soon!)
If you have questions regarding the Ocean by CognisantMD service, please call BAFHT or click the button below for some Frequently Asked Questions (FAQs).
OHIP Coverage
You must have a valid health card to receive medical services. Note that not all services are covered by OHIP.  Some of these services include, but are not limited to:
Request for copies of medical records
Travel vaccinations (ie – Twinrix)
Notes for work or insurance coverage (ie – Chiropractor, Physiotherapy, Massage Therapy or Orthotics)
Procedures such as liquid nitrogen or lesion removal, if cosmetic in nature
Ear Syringing
Forms for school, disability, insurance, etc.
Driver's medical examinations and additional forms
Booking the Right Practitioner
The Bluewater Area Family Health Team (BAFHT) is home to many different health care professionals including Physicians, Nurse Practitioners, Registered Practical Nurses, and a Social Worker. Our highly qualified team works together to provide you with exceptional health care.
Test Results
Results from tests performed at BAFHT will be reviewed by your health care professional within one week of receiving the results.  Patients will only be notified of the results if further action is necessary.  Test results cannot be given over the phone. 

Blood lab results can be obtained by registering for the LifeLabs MyCareCompass service (formerly MyResults).  You must call LifeLabs Customer Service at 1-877-849-3637 with your valid OHIP card, to obtain the "lab visit number" to register online within ONE month of your most recent blood work.
Patient Records Requests (Personal Copies)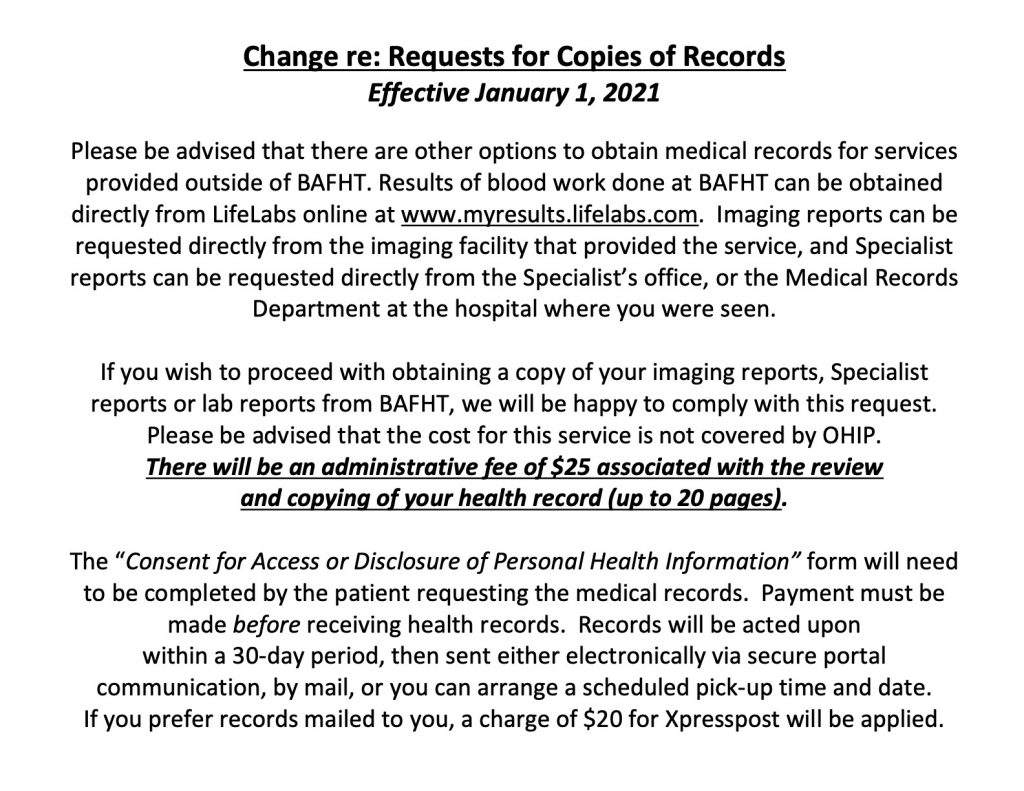 Cancellations
You may leave a message to cancel your appointment on the cancellation line: (519) 236-4314. BAFHT requests a minimum of 24 hrs notice for cancellations.
LifeLabs
LifeLabs is an independent blood clinic that operates within the BAFHT clinic.  For more information on LifeLabs services, call them directly at 1-877-849-3637 or go to www.lifelabs.com.

LifeLabs at BAFHT location hours.