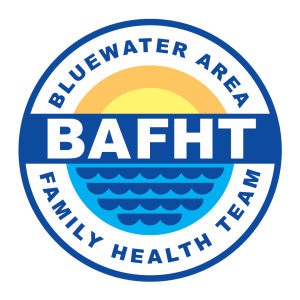 COVID-19 Update from BAFHT – March 15, 2020
Bluewater Area Family Health Team is taking measures to protect our patients and staff from exposure to COVID-19 as we continue to provide care to our patients.
All programming and outside services, including Life Labs,
have been suspended until further notice.
Patients will not be allowed access to BAFHT without calling ahead.
Online Portal bookings will be suspended at this time and patients calling reception will be screened before scheduling an appointment.
Patients with less urgent matters will be encouraged to postpone their appointments.
Appointments will be triaged and you may be offered a telephone or a virtual care appointment through Ontario Telehealth Network.
In office appointments will be booked for urgent matters and patients will be screened before entry. Only the patient and one caregiver will be allowed to enter the clinic.
If you require additional medication please contact your Pharmacist for assistance as we have asked them to renew maintenance medications.
Please note that visiting a health care provider in person comes with a higher risk of coming into contact with COVID19 and the possibility of spreading the virus.
Thank you for your patience and understanding as we work to provide care
through these challenging circumstances.